PROMOTIONAL DISCOUNT // 2 months free
SOC 2 and Beyond with DuploCloud's Continual Compliance
DuploCloud's DevOps as a Service offering accelerates infrastructure provisioning and configuration of cloud applications in a secure and compliant manner for standards including SOC 2, ISO 27001, HIPAA, PCI, NIST & GDPR.
Trusted by the brands you know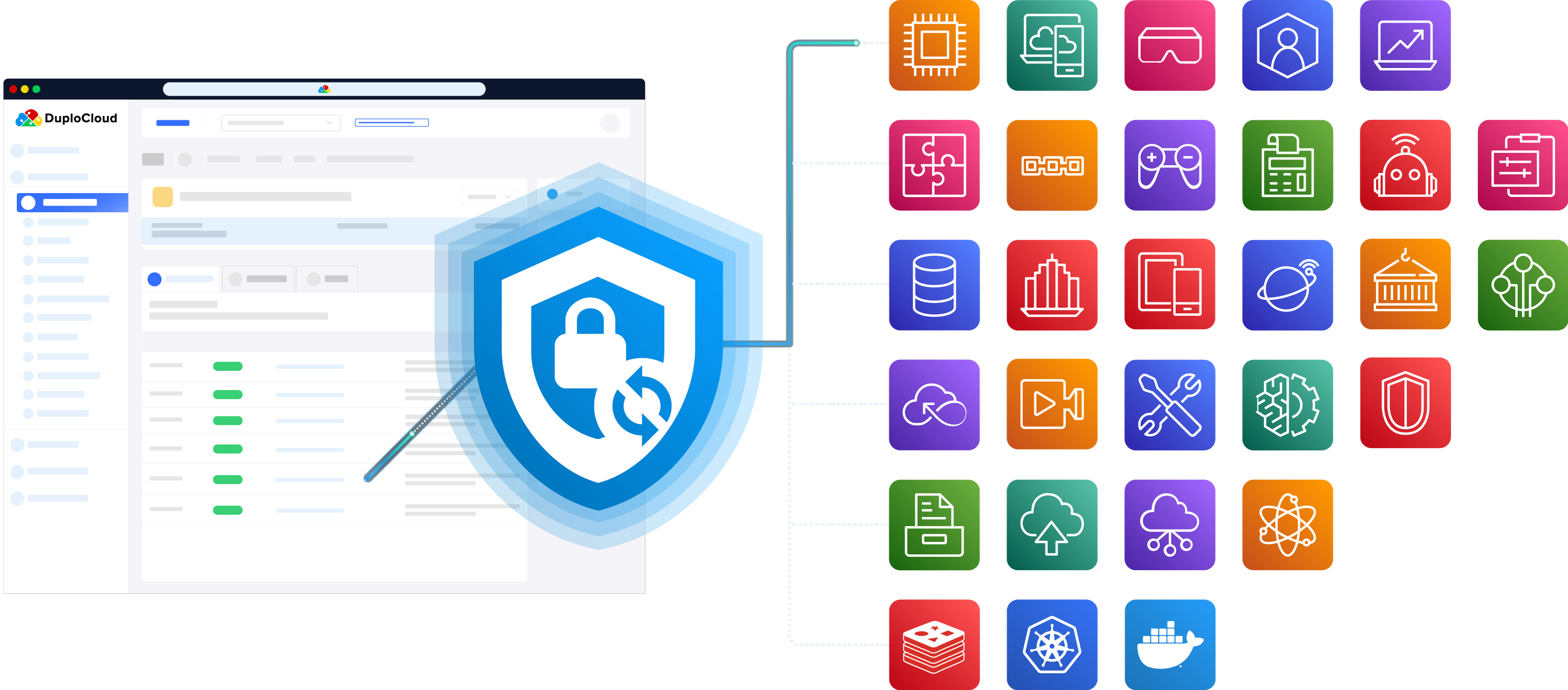 Obliterate Time-to-Market Goals
Implementing the security controls for compliance standards like SOC 2, PCI-DSS, or HIPAA is a 6 to 12 month effort, requiring InfoSec expertise and thousands of lines of Infrastructure-as-Code (IaC).
DuploCloud software platform delivers a comprehensive solution guaranteeing a secure and compliant infrastructure in as little as 2 weeks! After Installing within a VM inside your cloud account you can access it through our no-code web UI, and those who prefer infrastructure-as-code will write 90% less code. Automating the full DevSecOps lifecycle including Network Infrastructure, Cloud Services, Application Deployment, Diagnostics, CI/CD, as well as offering Auditing and Reporting Capabilities.
Trouble hiring skilled DevOps engineers?
Use DuploCloud. Automated provisioning and orchestration across network, compute, storage, containers, cloud native services, continuous compliance and developer guardrails, with 24/7 support.
Taking months to implement Security and Compliance?
DuploCloud accelerates time to compliance by natively integrating security controls into SecOps workflows the first time, including, monitoring and alerting for PCI-DSS, HIPAA, SOC 2 and GDPR.
Struggling to migrate your applications to the cloud?
Easily migrate on-premises to Cloud or Cloud to Cloud with seamless automation and unique data migration techniques to minimize downtime.
Get DuploCloud for 2 months free when you sign up
See what DuploCloud can do for you
Start automating your DevOps with DuploCloud. Once you tell us a little about yourself and we'll connect you with a DuploCloud expert who can share more about the product and answer any questions you have.