GUIDE
The Complete SOC 2 Compliance Checklist
Prepare for your SOC 2 audit with this step-by-step checklist from DuploCloud.
Complete the form to download your copy now
What you'll learn
Passing a SOC 2 compliance audit is now an essential cornerstone for businesses building in the cloud. To stay competitive in today's market and stop preventable security threats, you must provide potential clients with a SOC 2 report.

This checklist breaks down the SOC 2 compliance process step by step and provides actionable tips on speeding up your time to market without compromising security features.
What's inside:
An overview of SOC 2 criteria and some guidance on helping you choose the relevant criteria.
A detailed checklist for the SOC 2 compliance process, from determining the scope of your report to the audit process
Benefits of SOC 2 compliance, why it matters in today's market, and how to achieve compliance without increasing time to market
Complete the form to get a copy of the checklist.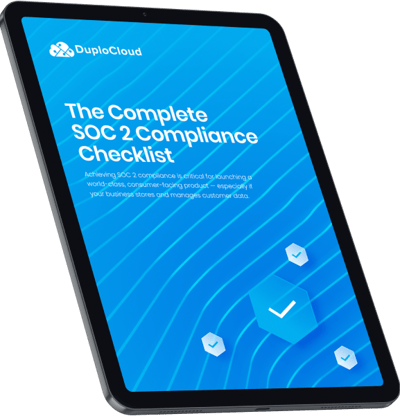 Get started with DuploCloud today
Ship faster. Automate compliance. Stay secure.