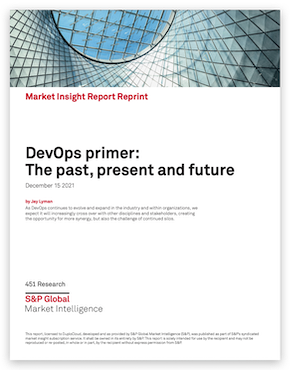 DevOps Primer: The Past, Present and Future
At its beginning, DevOps was mostly about going faster and more efficiently managing IT infrastructure, even at scale. Over years of evolution in the enterprise, DevOps has come to mean much more to organizations seeking to digitally transform both their internal workflows and end-user experiences.
A dramatic affect has taken hold in DevOps, shifting the end user, who was generally less important than elegant code and scripts 10 years ago, but today is a priority for teams deploying applications and services. DevOps has gone mainstream and has been adopted at the team level or across all of IT for nearly every enterprise organization that deploys software to production.
The introduction of more data analytics, AI and ML will likely contribute to more data- and business-driven DevOps guided by faster releases and optimized IT management, as well as organizational agility and customer satisfaction. More than a decade ago, when when DevOps first emerged it a mostly grassroots, developer-driven initiative that was left primarily to the practitioners and champions.
Today, DevOps is driven primarily by top-down adoption, with management and leadership leveraging it as part of digital transformation.
Please share some contact information to download the white paper
Complete DevOps-as-a-Service
No-code/low-code Solution for Application Provisioning and Compliance Management